Tips For Using Your Bosch Food Processor
As a safety feature, food processor unit must be fully assembled, with cutting blade or disk inserted and lid tab locked into handle, before attaching to machine for it to operate.
Always shred cheese before freezing. Frozen bricks of cheese will go crumbly.
ASSEMBLY TIPS CLICK HERE FOR PRINTABLE COPY
The attachment is very similar for all 3 of the mixer styles. The attachment for the Universal (MUM6.series) is shown.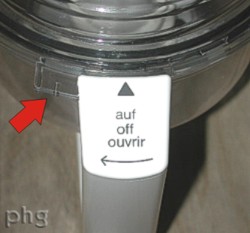 The processor must be assembled and the lid locked
in place before you can put it onto the machine.
There is a block on the bottom which prevents the processor from
attaching to the machine.s motor base. (see photo) This is a
designed safety feature so exposed blades cannot turn.
Assembly:
1. The processor bowl must be in place and the tab
locked into the handle.
2. Put in whatever blades and food you wish to
process.
3. The lid must be in place and the tab locked into the
handle. (see photo above)
The 3
rd
step will move the safety block and allow the processor to attach to the machine.
The cover cannot be removed while the processor is on the machine. Take the entire
attachment off of the motor base to remove the lid.
Most of the parts of the Food Processor Attachment can be washed in an
automatic dishwasher. However,
do not
put in the white handle
assembly in the dishwasher (this is the part that attaches to the machine).
Wipe with a damp cloth only.